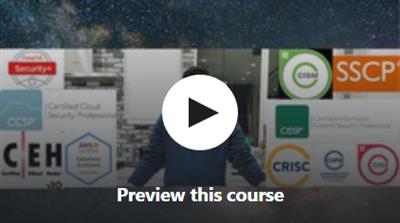 Ultimate guide to pass top 10 IT security cert:AWS to CISSP | Udemy | 1.06 GB
What you'll learn
How to study for all the information technology and security related market leading certification.
Best guidelines for cracking the exams and to the point resources list to pass the exams made by the certification holder.
Top resources list needed to study for the certifications.
Last moment exam tips and tricks.
Learn how not to fail in the exams!
Hello everyone! I hope you are doing great.
Have you ever thought of going for IT or Security related exams in your whole life?! I am sure you did! We always want to develop our skills and certification is one of the finest ways to do it!
But, when it comes to a proper guideline like how we need to read, what resources are required to study, what would be the not to fail in the exams; we are struggling to get those from a single source point. I am sure everyone like me faced the same dilemma at least once in their lifetime. And as I was once in the same boat, I thought of making a course where you will get all the required things for not only one but 10 best certifications in the current world for IT and Security! I know you want to be ready to roar in your career and that is why you are here! I guarantee you that this course will always provide you the real guidance to crack your dream certificate and I am here to help! I bet on the thing that you will find any course like this in any learning network worldwide!
This is a course that is perfect for all the people ranging from beginner to pro-level in security as I have provided the root level certifications like Comptia security+ to the highest one like CISSP. I am sure you will find at least one even not more than that in the list which will be needed to excel in your career in the coming days. I will try to incorporate some more in the coming days as well. Every 3 to 5 years the certification body change their resources and I will definitely update those accordingly to my course so that people can get the up to date information regarding the courses.
The 10 certifications which will be highlighted in my course are :
1. CISSP – CISSP (Certified Information Systems Security Professional) is an independent information security certification granted by the International Information System Security Certification Consortium, also known as (ISC)².
As of January 1, 2021 there are 147,591 (ISC)² members holding the CISSP certification worldwide.
2. CCSP – Earning the globally recognized CCSP cloud security certification is a proven way to build your career and better secure critical assets in the cloud.
3. SSCP – The Systems Security Certified Practitioner (SSCP) is the ideal certification for those with proven technical skills and practical, hands-on security knowledge in operational IT roles.
4. CISA – CISA is world-renowned as the standard of achievement for those who audit, control, monitor, and assess an organization's information technology and business systems.
5. CISM – ISACA's Certified Information Security Manager (CISM) certification indicates expertise in information security governance, program development and management, incident management, and risk management.
6. CEH – Certified Ethical Hacker CEH v11 will teach you the latest commercial-grade hacking tools, techniques, and methodologies used by hackers and information security professionals to lawfully hack an organization.
7. AWS Solutions Architect Associate – The AWS Certified Solutions Architect – Associate examination is intended for individuals who perform a solutions architect role and have one or more years of hands-on experience designing available, cost-efficient, fault-tolerant, and scalable distributed systems on AWS.
8. CDPSE – With increasing regulations on how data is collected and managed, organizations need to enhance the value of data while maintaining customer trust. CDPSE is the first experience-based, technical certification of its kind.
9. CompTIA Security+ – CompTIA Security+ is a global certification that validates the baseline skills necessary to perform core security functions and pursue an IT security career.
10. CRISC – ISACA's Certified in Risk and Information Systems Control (CRISC®) certification indicates expertise in identifying and managing enterprise IT risk and implementing and maintaining information systems controls. Gain instant recognition and credibility with CRISC and boost your career!
There will be a massive scarcity of IT security people in the world in the coming years. This kind of certificate with hands-on experience is the key to grab those posts. Here is a reflection :
There is already a 0% unemployment rate in the security field. That rate has stayed consistent since 2011 and shows no sign of changing. So anyone with experience or education in cybersecurity should have no problem finding a job. (According to esecurityplanet)
74% of companies already report the skills gap is impacting their ability to secure sensitive information, leading to data breaches and issues with regulatory compliance. 58% of CISOs report they're concerned that the cybersecurity skills gap will only continue to worsen in 2021.
Currently, jobs that require cloud security skills stay open for an average of 79 days. That is longer than virtually all IT job openings. Existing professionals with cloud security skills can expect an increase in compensation of up to $15,025 in 2021.
Cybersecurity professionals from all around the world will have employment opportunities available to them, especially with the boom in remote work this year.
The Asia-Pacific region is experiencing a huge surge in demand with over 2 million open security positions. Across Europe, there are currently around 400,000 positions available. In total, the U.S. has 314,000 open positions, with the majority of them centered in five states: Virginia, Texas, Colorado, New York, and North Carolina.
What are you waiting for then????? Come and join in this unique one-stop solution course which will be good enough to guide you to pass the world-renowned certifications and become a star in the security domain!
I wish you all the success in your future learning and will be always there to help and guide you to achieve your dream.
If you help others, God will help you the way you would like!
Stay blessed.
Regards,
Ashief Ahmed
IT Security Architect
SSI
Who this course is for:
IT security analyst, IT security manager, IT manager, System administrator and people who is willing to start their journey for top notch IT and Security certifcations.
People who want to boost their career through security certifications.
Anyone who needs IT and Security certifications to boost up their career.
People who have eagerness to learn IT and Security topics.
Download link:

Links are Interchangeable - Single Extraction - Premium is support resumable