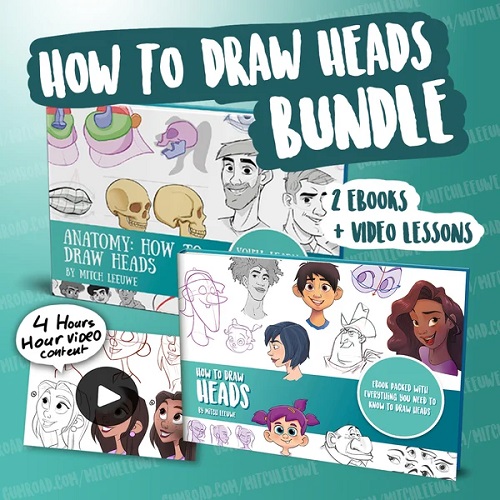 Gumroad – How to draw heads ebook & video by Mitch Leeuwe | 308.3MB
Ebook full of tutorials (72 pages) and almost 3 hours (174 minutes) video content on how to draw heads. In this Ebook, I start really basic and go more in-depth along the way. So it's really suited for beginning artists and also for more experienced artists. Starting with the basics about how to draw the head, like the basic construction, the different angles like; front, side, and 3/4 view. Along the way, I go step by step a bit more in-depth, showing how to draw different heads. You can follow this course with any software or app, or either just with paper and pencil. This is because I focus on teaching drawing principles.
Content:
Basic principles of drawing the head, construction, different views, shapes, different characters, and much more.
Video tutorial of almost 3 hours (174 minutes), covering the content of the ebook. I show you how I draw them and how to go through the ebook and give tips about what kind of exercises you could do.
I made the videos in photoshop, but you could use anything (procreate, sketchbook) you want because I'm focussing on teaching drawing principles. You can use these principles with any tool you like.
The Ebook is a PDF file with 72 pages (or 36 double pages in PDF).
Download link:

Links are Interchangeable - Single Extraction - Premium is support resumable