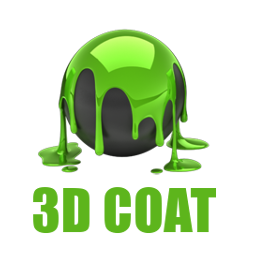 3DCoat 2021.70 (x64) Multilingual | 618.23 MB
3DCoat is the only app that has all the tools you need to transform your 3D idea from a piece of digital clay into a production-ready, fully textured model, be it organic or mechanical.
Simple texturing and PBR . Support for micro-vertex painting, pixel painting and Ptex. Physically Based Rendering (PBR) with HDRL viewport. Smart content with easy customization. Layered painting. Popular blending modes. Combining layers into groups. Full integration with Photoshop and Blender . Textures up to 16k are supported. Fast rendering of Ambient Occlusion and Curvature maps.
Digital sculpting . Features of voxel (volumetric) sculpting: No topology restrictions. Sculpt in the same way, as if from clay. Complex logical operations. Fast kit bashing process. Traditional sculpting gives you powerful features like: Adaptive dynamic tessellation (Live Clay). Dozens of fast and dynamic sculpting brushes. Logic operations with clear edges.
Exceptional retopology toolkit . Auto-retopology (AUTOPO) with configurable triangle settings. Fast and easy-to-learn manual retopology toolkit.
Ability to import a reference mesh for retopology. Use your current low poly mesh as your retopology mesh.
Retopological groups with a palette of colors for easy management.
Fast and easy UV mapping . Professional toolkit for creating and editing UV sets. Native Global Uniform (GU) deployment algorithm.
Support and management of multiple UV-sets. Supports ABF, LSCM and Planar sweep algorithms. Correction of individual islands.
– New brush engine
– Low
poly modeling – Sculpt layers
– Rich set of curves
– Smart retopology
– Updated GUI
– FREE library of smart materials
– DIGITAL SCULPTING
– Voxel sculpting without any topological constraints
– Complex boolean operations with hard edges
– Dozens of fast and smooth sculpting brushes
– Adaptive dynamic tessellation
– PBR DRAWING
– Microvertex, Per-pixel or Ptex painting
– Viewport with highly dynamic lighting and real-time PBR shading support
– Flexible smart materials
– Texture sizes up to 16k
Treatment procedure
-Install anywhere.
– Enjoy your use.
System requirements : 64-bit Windows 7/8/10, macOS 10.13 High Sierra or newer, Linux Ubuntu 20.04 or higher
Processor : CPU i3 3.06 GHz, CPU i7 2.8 GHz,
RAM : RAM 8-16 GB
Hard disk : 2 GB free space
Video card : GPU Radeon Pro 555, GeForce GTX 960M, GeForce GTX 1050 2-4 GB or better
Optional : Wacom or Surface Pen, 3Dconnexion navigator, multitouch on Surface Pro
Download link:

Links are Interchangeable - Single Extraction - Premium is support resumable