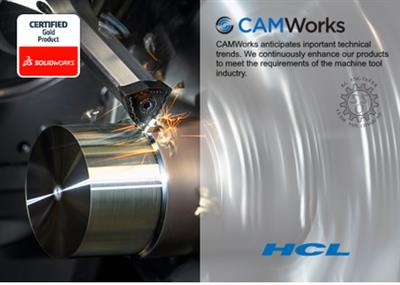 CAMWorks 2022 SP0 | 2.5 Gb
Languages Supported: 中文 Simplified, 中文 Traditional, Français, Deutsch, Italiano,
日本語, Polski, Português-Brazilian, Русский, Español, Türkçe, 한국어, Čeština
The GeometricPLM development team is pleased to announce the availability of CAMWorks 2022 SP0 build 2021/1227 (27-December-2021) is the most advanced CAM software available, combining production-proven feature based CAM technology, automatic feature recognition, and rules based machining along with tolerance based machining to leverage MBD and PMI technology to automate Smart Manufacturing for CNC programming – paving the way to advanced digital manufacturing.
CAMWorks constantly updates its software to satisfy the requirements of the manufacturing industry, as well as offering features to assist manufacturers through its software.
A new version of CAMWorks included the following features and enhancements: Support for barrel tools in milling operations:
The barrel tool has been added to CAMWorks2022. A parametric shape can be defined for the barrel tool. The tool is frequently used for finishing operations, as it can produce a smoother surface finish. CAMWorks supports five types of barrel tools: standard, conical tangent, tapered, lens, and advanced. Further, barrel tools support multi-axis milling operations, three-axis milling operations, and two-axis milling operations (not supported for centre drills, counter sinks, tapping, thread milling, or VoluMill operations).Tech database allows you to access and modify barrel tools by selecting mill tooling, cutters, and then barrel tools. Next, you can define tool parameters in specific dialogue boxes and save your changes.
Improved user interface for defining and editing multisurface features:
CAMWorks2022 has updated its user interface to make it easier to define and manipulate the machining of multi-surface features. Geometry tab created under operation parameters allows users to view, add, and modify multisurface features. As well, the automatic contain area feature has been moved to the geometry tab.
Machine to mean for tolerance-based machining:
Using the machine-to-mean function, all dimensions are machined in mean condition and is available on the Run tab in the tolerance-based machining dialog box. This is applicable to milling operations. The part geometry must contain multiple dimensions and several tolerance ranges in order to support this feature.
Conversion of rapid moves to high feed moves for VoluMill toolpaths:
CAMWorks2022 has introduced check boxes for converting rapid moves into high feed moves in roughing and area clearance operations. A click of the check box initiates the conversion. The feedrate changes automatically. The check box is located in the F/S tab under operation parameters.
Conversion of Arc moves to line moves for VoluMill toolpath:
CAMWorks2022 has introduced an option for VoluMill which converts Arc moves into number of lines moves. VoluMill provides this feature under its settings. To use it, you must check the checkbox. It is unchecked by default. This will only change the arc move to a line move.
Enhanced toolpath for Contour mill operation:
CAMWorks2022 has updated the toolpath motion for contour milling. CAMWorks makes sure that the modification maintains the user-defined values for the entry and exit of the tool. The automatic adjustment is determined by the diameter of the tool.
CAMWorks for SOLIDWORKS
was the first fully integrated computer-aided manufacturing (CAM) solution designed exclusively to operate in SOLIDWORKS and the first to offer knowledge-based, feature recognition, and associative machining capabilities within SOLIDWORKS.
CAMWorks uses the same SOLIDWORKS geometry to generate toolpaths to ensure the part you machine is the same part you've modeled. Toolpath simulation allows users to compare "as designed" parts to "as machined" parts. The part model-to-toolpath associativity in CAMWorks increases machining productivity and lowers manufacturing costs by eliminating time-consuming CAM system rework due to design updates.
CAMWorks eliminates the drudgery of CNC programming with Intelligent Machining through automation. Pioneered by Geometric Technologies, this suite of tools automates the generation of toolpaths based on a knowledge-based database. It eliminates hours of complex programming through Automatic Feature Recognition (AFR) that automatically defines prismatic machinable features, while the TechDBTM (Technology Database) defines machining operations to automatically generate accurate toolpaths at the click of a button.
CAMWorks machining modules include: 2½ Axis Mill, 3 Axis Mill, Turning, Mill-Turn with 5 Axis Simultaneous Machining Support, 4/5 Axis Simultaneous Machining, and Wire EDM.
CAMWorks for 2022 provides advanced new features to help you take full advantage of your CNC machines
GeometricPLM by HCL Technologies
a specialist in the domain of engineering solutions, services and technologies. Its portfolio of Global Engineering services, Product Lifecycle Management (PLM) solutions, Embedded System solutions, and Digital Technology solutions enables companies to formulate, implement, and execute global engineering and manufacturing strategies aimed at achieving greater efficiencies in the product realization lifecycle.
On April 1st 2016, Geometric got into an agreement with HCL Technologies to transfer of its business to HCL Tech by way of demerger, except for its 58% share in the joint venture with Dassault Systèmes (3DS) (3DPLM Software Solutions Limited (3DPLM)). The transition has become effective on March 2nd 2017, after seeking all statutory approvals.
Product:
CAMWorks
Version:
2022 SP0 build 2021/1227 (27-December-2021)
Supported Architectures:
x64
Website Home Page :
http://www.camworks.com
Languages Supported:
multilanguage
System Requirements:
PC *
Size:
2.5 Gb
Download link:

Links are Interchangeable - Single Extraction - Premium is support resumable