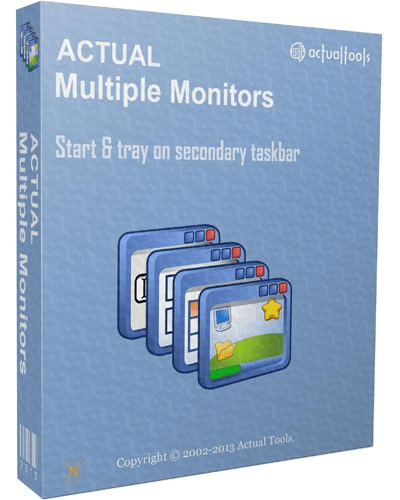 Actual Multiple Monitors v8.14.6 Multilingual
File Size: 10.7 MB
Actual Multiple Monitors improves Windows® user interface when working with several monitors at once. Install Actual Multiple Monitors to get such essential controls as Taskbar, Start menu, system tray and Task Switcher on each connected display, quickly allocate windows between monitors (either manually or automatically), improve the look-and-feel of your desktop with the multi-monitor desktop wallpaper and screen saver, switch your laptop between internal display and external displays in a click with desktop profiles. Play your favorite games on one monitor and chat, serf web, stream online video, etc. on the others at the same time without fear that the game will minimize. With these subtle but indispensable enhancements your productivity may be increased several times!
Multi-Monitor Taskbar
You no longer need to move the cursor to the primary screen to access the taskbar. With Actual Multiple Monitors you will get a fully functional taskbar onto each display. No matter which monitor you are working with - the following Windows 7, 8 Taskbar features will be available anywhere:
Start button and toolbars
Aero Peek and Jump Lists
Notification area (system tray), clock and Show Desktop button
Custom taskbar groups
Recycle bin on the taskbar
and much more
Additional Title Bar Buttons
Be saved from routine tossing of windows between monitors - new buttons in each window's title bar give an instant access to advanced window functions and let apply them in a single click:
Move Window to Another Monitor additional title button - move a window to another monitor
Maximize Any Window over Entire Multi-monitor Desktop additional title button - make a window span the entire composite desktop
Custom Hotkeys
Hotkeys is the tool of professionals, and Actual Multiple Monitors supports them in full. Most of program functions can be activated via hotkey, and you can customize the key combinations at will. Moreover, you will be able to add your own hotkeys for some window operations
Multi-Monitor Gaming
Gamers will appreciate several features of Actual Multiple Monitors that were developed specifically for enhancing multi-monitor gaming experience, making it more attractive and convenient:
Ignore Deactivation - prevents the game from being minimized. By using this feature you can play your favorite games on one display and stream, surf web, watch full screen video, and etc. on others.
Lock Mouse - locks the mouse pointer in a specific window or monitor preventing it from leaving a game
and many others
Desktop Divider
Divider allows you to divide the entire large desktop or each monitor into several non-intersecting areas (tiles). If you put a window into one of such tiles, the window will expand up to tile's borders only. You can create as many custom tile layouts as you need and activate them on the fly as circumstances require.
Window Snapping
If you prefer arrange your windows manually, Actual Multiple Monitors will help you make it faster and more accurate by snapping a certain edge of the dragged window to:
desktop or monitor boundaries
other windows (both from inside and outside)
custom virtual grid with a defined cell size
Also, you will get an improved version of the Windows 7 Aero Snap feature: now it works on edges between monitors.
Multi-Monitor Wallpaper
Using Actual Multiple Monitors, you can set up any kind of Desktop's background on multiple displays:
Single picture stretched over the entire desktop
Individual picture on each monitor
Individual slideshow running separately on each monitor
Web slideshow from Google Image Search or Flickr
Flexible picture positioning (center, tile, stretch, proportional stretch, crop to fit)
Multi-Monitor Screen Saver
Actual Multiple Monitors gives new abilities for screen savers (even those that don't have native multi-monitor support) - you will be able to:
stretch any screen saver over the entire desktop
put individual screen saver onto each monitor
Desktop Mirroring
Mirroring is a special function that allows observing a certain window, monitor or a custom part of desktop in a separate window on another monitor. It can be useful in various specific situations:
you need to clone the primary displays to two or more additional monitors
you need to control what happens on another display but it's out of your sight (monitor turned to a client, TV in another room, etc.)
when you give a report or presentation, you can work with materials on your main display, mirroring its necessary part only onto the projector for your listeners
Features:
If you are lucky owner of at least two displays you have surely noticed that even modern versions of Windows® provides very basic support for multi-monitor environments. The extended screen estate requires some special tools to get the real benefit from it - otherwise, you are risking to spend more time on routine window manipulations than on your actual work.
Actual Multiple Monitors provides the following specially designed tools to maximize the speed and comfort when working with a multiple monitors setup:
Multi-monitor Taskbar - makes window navigation quick and easy on secondary displays
Multi-monitor Task Switcher - cancels the need to turn your attention to the primary display every time you switch between tasks using
Multi-monitor background wallpaper - gives additional abilities to customize the desktop background
Multi-monitor screen saver - allows running any screen saver in a multi-monitor mode
Desktop Divider - allows you to divide the entire large desktop or each monitor into several non-intersecting areas (tiles).
Desktop management tools - provides various tools to manage the multi-monitor desktop efficiently: desktop profiles, desktop icons manager, etc.
Desktop mirroring tools - provides various types of desktop mirroring to improve the workflow
Advanced multi-monitor window management - speeds up the allocation of windows within the extended desktop
Multi-Monitor Mouse - provides additional abilities for using a mouse in work and games on a multi-monitor system
Download link :
(If you need these, buy and download immediately before they are delete)
Links are Interchangeable - Single Extraction - Premium is support resumable