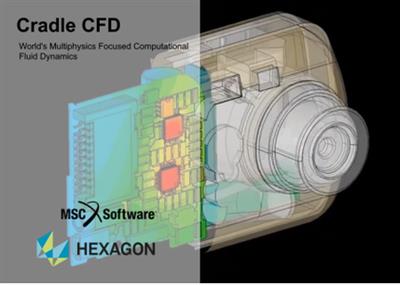 MSC Craddle CFD 2021.1 | 2.8 Gb
Software Cradle is proud to announce the availability of Cradle CFD Version 2021.1 as a Multiphysics Computational Fluid Dynamics solution to enhance your productivity and aid smart manufacturing. The packages of scFLOW, scSTREAM, HeatDesigner and SC/Tetra are all integrated into Cradle CFD.
Cradle CFD
is a series of practical, state-of-the-art CFD simulation and visualization software. It has been in use for diverse applications, such as Automotive, Aerospace, Electronics, Building and Architecture, Civil Engineering, Fans, Machinery, and Marine developments, to solve thermal and fluid problems. Incorporating the reinforced Multiphysics co-simulation and chained simulation capability to achieve couplings with Structural, Acoustic, Electromagnetic, Mechanical, One-Dimensional, Optimization, Thermal Environment, 3D CAD, and other relative analysis tools. Cradle CFD consists of scSTREAM, scFLOW, scTetra, scPOST, and other tools.
In this webinar, we will explore how to get scFLOW simulation results faster than ever before leveraging the Rescale platform. We will start by showing how easy it is to set up, execute, monitor, and post-process a simulation on Rescale even when using a high fidelity model and a large mesh. We will also review how to accelerate product development when you pair Cradle CFD tools with the fastest compute resources in the cloud.
Hexagon is a global leader in sensor, software and autonomous solutions.
We are putting data to work to boost efficiency, productivity, and quality across industrial, manufacturing, infrastructure, safety,and mobility applications. Our technologies are shaping urban and production ecosystems to become increasingly connected and autonomous ensuring a scalable, sustainable future.
Software Cradle, part of Hexagon's Manufacturing Intelligence division,
provides highly reliable, multiphysics-focused computational fluid dynamics (CFD), thermal dynamics software and integrated simulation tools that enhance customers' product quality and creativity. Hexagon's Manufacturing Intelligence division provides solutions that utilise data from design and engineering, production and metrology to make manufacturing smarter.
Product:
MSC Craddle CFD
Version:
2021.1
Supported Architectures:
x64
Website Home Page :
http://www.mscsoftware.com
Languages Supported:
english
Size:
2.8 Gb
Download link:

Links are Interchangeable - Single Extraction - Premium is support resumable