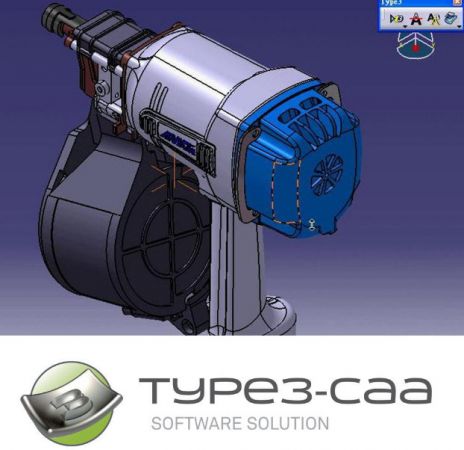 Type3 CAA 5.5C Build 20330 (x64) Multilingual for CATIA V5R30
File Size: 389.4 MB
TYPE3-CAA: Integration of Associative Text & Graphic elements in CATIA®. Developed in partnership with Dassault Systèmes since 2003, TYPE3-CAA offers design and construction engineers an unique access to a wide range of professional tools to enhance industrial parts with serial numbers, text, logos, legal information, specs. directly within the PLM process of CATIA CAA V5 / 3DEXPERIENCE.
TYPE3-CAA Software Solutions in just a few words:
Professional tools to create text, with any typographical controls,
Easy management of fonts, references, symbols, graphic elements,
Projection & Mapping capabilities on any simple or complex surface,
Full integration within CATIA V5 and 3DEXPERIENCE environments,
Complete compatibility with Design Tables and Power Copies,
Accurate vectorization of pictures and graphic elements,
Available in English, French, German, Japanese, Italian and Simplified Chinese
Traceability, communication, marking and engraving on prototypes and finished parts are essential needs in activities such as Automotive & Transportation, Aerospace & Defense, Industrial equipment, Consumer Goods, Mold Making.etc. TYPE3-CAA guarantees respect of graphic charts, from design to manufacturing up to the end user. It is fully parametric and associative with all features of CATIA. Companies using TYPE3-CAA benefit from immediate productivity gains.
Text features, library of symbols
Professional tools for text creation, font management, symbols & serial numbers integration
Various Projection & Mapping algorithms for any type of surface
Parallel / local projection
Basic / conical / cylindrical mapping
Precise positioning on surface
For single or multi-surfaces
Projected / Mapped CATIA curves are fully Associative.
Text along a curve, along an arc, from a box,
Multi-line text,
Text on multi-supports,
True Type Fonts and single line fonts (Stroke lines)
Mirror text for mold makers, kerning controls,
G1 compatibility
Creation of macros using any text features.
All text features are Parametric and re-editable through CATIA construction tree.
Vectorization
Import any image for effective vectorization
BMP, JPEG, TIFF, GIF, PNG direct import in CATIA V5 / 3DEXPERIENCE,
Simple and quick vectorization with dedicated parameters (allowance, noise filtering, smoothing, sensibility.),
Vectorization from black and white or even colored pictures.
Type3 CAA 5.5C for CATIA V5R28
Whats New:
Updates: official site does not provide any info about changes in this version.
Download link :
(If you need these, buy and download immediately before they are delete)
Links are Interchangeable - Single Extraction - Premium is support resumable